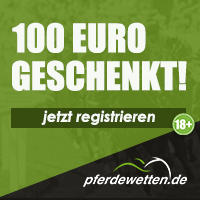 Imprint
---
www.Dein-Rennpferd.de is an offer from:
aureus equus Unternehmensgesellschaft (limited liabilty)
Limburger Str. 33
50672 Cologne
CEO: Jonas Schorfheide
Phone: +49 (0)163-8044660
You can reach us from Monday to Friday from 4 pm to 6 pm.
Mail: info(at)dein-rennpferd.de
Registration court: District Court Cologne
Register number: HRB 82266
Value added tax identification number according to § 27 a VAT Act: DE 815525159
Person responsible according to § 55 section 2 RStV: Jonas Schorfheide, Limburger Str. 33, 50672 Cologne
Disclaimer of liability
The contents of this website are compiled with the greatest possible security. aureus equus UG (limited liability) assumes no responsibility for the accuracy, completeness and topicality of the provided contents. This especially applies for the given odds and bonuses of the betting provider, the description of the racehorses as well as the statistics and the news reporting about the racehorses. The use of the contents of the website takes place of user's own risk. Marked contributions give the opinions of the individual author and not of the provider. With the pure use of the website of the provider no contractual relationship comes about between user and provider.
External links
The website is connected to third party websites ("external links"). Those websites are subject to the liability of the respective provider. The provider checked the external links for legal faults during the first connection and determined that all legal requirements are fulfilled. The provider does not have any influence on the current and future design and contents of the linked pages. The placing of external links does not imply that the provider takes possession of the content behind the reference or link. A permanent control of these external links cannot be ensured by the provider without a concrete hint to legal infringements. With knowledge of violations, such external links will be deleted immediately.
Copyright and neighbouring rights
All copyrights and neighbouring rights of the website, especially the texts, the graphics, the design, the layout as well as the software remain property of aureus equus UG (limited liability). Copying, reproducing, reselling, modifying or publishing of the website are not permitted, unless aureus equus UG (limited liability) has agreed to this previously in writing. All types of violations against the copyright and neighbouring rights as well as other commercial property rights will be pursued legally.
Privacy
You can find the data protection declaration of aureus equus UG (limited liability) here.
General terms and conditions
You can find the general terms and conditions as well as cancellation here.
Sample lease agreements
Here you can find the sample lease agreements
Sample lease agreement - mVO-mVR.
Contact
---
aureus equus Unternehmergesellschaft (limited liability)
Limburger Str. 33
50672 Köln
+49 (0)163-8044660
info(at)dein-rennpferd.de